Nth Screen technology featured at Encounters Film Festival, in the form of Hazel Grian's film Nth Bird.
Nth Bird is a multi-segment film of lots of birds all singing at once in the same tree. When they hear a hawk they flit from branch to branch and when the hawk swoops they all fly away except one who is caught. But which one?
It was created by filmmaker Hazel Grian for the Nth Screen platform in collaboration with Tim Kindberg (matter2media, Pervasive Media Studio) and Dr Charlotte Crofts (Digital Cultures Research Centre, University of the West of England), as part of of our 2013 REACT project. You can read an interview with us in Inside Encounters 3.
Filmmaker Hazel Grian explains: "The 'film' is made up of different shots as you'd expect but in this case each shot is designed to be seen on a different phone simultaneously in the same room. So if two people put their phones side by side they'll see two birds fly from one phone to the other and hear those two birds singing together until the hawk comes. If eight people put their phones together they'll see and hear all of the birds. Hundreds of people could do it and hundreds of birds would be singing and flitting about a giant tree. People can put their phones into a tree shape or whatever pattern they fancy. Alternatively, just the sound alone makes you stop and listen and when people stand around a space with their phones it's like being in a wood.
Nth Bird is a playful experiment with the kind of Natural History story telling that BBC Bristol is world famous for. The Nth Screen platform is a very interesting and enjoyable challenge for me both as a filmmaker and a writer of interactive narrative. I chose the theme of birds because I love to hear wild bird song, it's both simple and emotional. Nth Bird users get a chance to really listen to the songs they probably hear every day but don't register. On the phone, users can also see how colourful and charismatic our wild birds are. When we fail to notice them in the city and country we are really missing out. The music gives a cinematic feel, underscoring the birdsong and imposing a real sense of drama and emotion."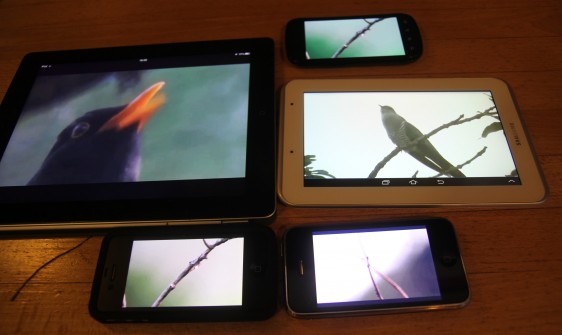 Academic partner, Charlotte Crofts outlines her involvement in the project: "From my perspective I was excited about collaborating with Tim and Hazel on this film because of the possibilities of mobile multiple synchronised screens, and what that might been in terms of editing and aesthetics – both for filmmakers and audiences. Hazel's film demonstrates, for me, what's compelling about this new platform where you engage people in a social viewing experience using their own personal devices. With Nth Bird, you get attached to the bird on your phone and a bit jealous when if flies away onto someone else's phone. It feels as if you are actually holding the bird in the palm of your had, it's very intimate."
The process of developing the film with Hazel began with a workshop where we invited filmmakers to come and play with the platform to see how they would like to use it, and how it worked as an interface. The workshop ran over two days with the first day introducing the platform and then going out and shooting some prototype films, followed by the second day where we edited the footage and mapped it onto the multiple screens. What we learned from the workshop was that filmmakers are really excited about the possibilities of the Nth Screen and that the films they ended up making ranged from narrative to the formalist and the abstract. We had a lot of fun playing with shooting and playing back immediately which has influenced the way in which Tim has gone on to develop the platform commercially."
And Tim Kindberg writes: "Listening to or watching and listening to Nth bird is a magical experience that I am proud to have been involved with. It is particularly satisfying to involve the audience in playing it. This is a core value behind Nth Screen: it's a platform for creating and watching funny, beautiful, moving & magical videos that play across our phones while we're together — the social value of being physically together is part of the experience.
From a platform perspective, the film exercises some of the many relationships between content and screens that the platform supports: the birds appear pairwise as we add screens so that they can fly between pairs of phones. There is also an element of randomness in choosing the pairs. Plus, there are all the interesting physical arrangements we can play with: it's either an audio-only experience with birds singing and flying around the room, or we hold up and view the screens. How should we hold them? In a circle, in a tree formation, or just in more or less a line for others to see, as in the video above?"