Second screen? Third screen? Matter 2 Media's CMA (Chief Media Algebraist) Tim Kindberg didn't think we should stop there. Why not any number and type of devices? And not just their screens but their speakers as well…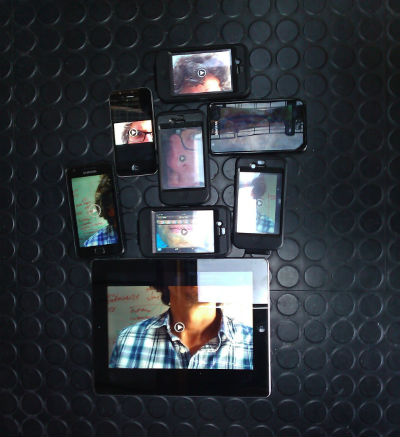 He started to build a platform for playing synchronised videos across mobile phones, tablets and fixed screens.
An app for togetherness
Running against the trend for people to communicate remotely, these multi-device, multi-segment, multi-viewpoint films are for people to enjoy and discuss together in social, co-located groups.
Nth Screen films are adaptive: each of us unlocks part of the film by connecting our device; the other devices respond to their presence, to reveal further film segments.
Nth Screen films are playful: each of us can move the screens around to see how the films look (and sound) when we bring them together in different arrangements. Maybe even dance with them…
Tim had been working on multi-screen apps for some time — from back in the 80s, actually, when he did his PhD on Reconfigurable Distributed Computations, more recently with Steve Chamberlain on Heads, and on It's the Skin You're Living In by Fevered Sleep.
It's the Skin You're Living In
Speaking of which, if you have an iPhone why not try the Nth Screen app we made for Fevered Sleep right now? Watch it with friends if you can.